If you're any kind of crafter, maybe you've come across
The Original Scrapbox
on the internet. The Original Scrapbox is the company that makes
The Workbox
, a crafter's dream. For those of you who haven't seen it, you have no idea what you're missing. The Workbox is a workplace and storage solution for all your crafting needs. When open, The Workbox gives you a table to create your treasures as well as dozens of shelves, totes and pouches to store your crafting paraphernalia. It folds up neatly to look like a fine piece of furniture and is completely portable on wheels to allow you to easily move it by yourself. The Workbox comes in raised or beadboard panel styles in black or vanilla colors to match your decor; knotty adler available at an extra cost. The Workbox is the perfect craft solution for scrapbookers, quilters, beading, stampers, or just any crafter that wants an attractive and functional place to store their goodies.
Want to win one? The Original Scrapbox has generously decided to give one craft-lover their own Workbox valued at $1295. In order to qualify for the drawing, you need to enter and win one of the giveaways being hosted on this or 9 other blogs. Each of the 10 blogs participating will draw one winner on October 8, 2009. That person is then entered into a drawing with the other winners from each of the blogs to win The Workbox. That means if you win here, you have a 1 in 10 chance of landing The Workbox. The winner will be drawn by Rachelle from
Rachelle's Writing Spot
on October 12, 2009. The Original Scrapbox will then ship that winner their own Workbox, free of charge.
So entering this giveaway gives you a qualifying spot at winning the big Kahuna of Crafts but you won't walk away empty handed even if you're not the final winner. The Original Scrapbox is offering each qualifier their choice of either a
ScrapMaBob
(drink holder & wastebasket for your craft area)
or a
Ribbon Box
(a box to store your spools of ribbon).
Mandatory Entry
1)Visit
The Original Scrapbox
and find a favorite item
besides The Workbox
and tell me what it is and how much it costs. (1 entry, leave 1 comment).
Extra Credit
make sure you've done the mandatory entry first!
1) Follow my blog (left sidebar) or take credit if you already do. (1 entry, leave 1 comment).
2) Become a fan of
The Original Scrapbox on Facebook
(1 entry, leave 1 comment with your Facebook name).
3) Spread the word via
Twitter
and
this can be done daily
. (1 entry, leave 1 comment daily with your tweet url).
Easy tweet you can use:
Giveaway from The Original Scrapbox; win a craft tool & qualify for a $1295 Workbox, a crafter's dream. Ends 10/8 http://tiny.cc/lpbF5
4) Spread the word via
Facebook
& make sure you add the $100 off shipping code
100WRITES
. (2 entries, leave 2 comments with your Facebook name).
5) Blog it. It doesn't have to be long or wordy but it must link to The Original Scrapbox and this giveaway and include the
100WRITES
shipping code to count. (5 entries, leave 5 comments with your post url).
6) Add the
100WRITES
shipping code button to your blog sidebar. Just copy and paste the code in the below box in your blog's sidebar(5 entries, leave 5 comments with your blog url).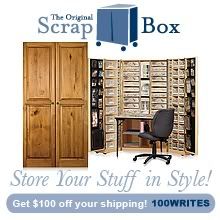 Official Rules:


Giveaway ends on

Thursday, October 8, 2009 at 11:59pm EST

. Open to residents of the US, Canada, UK and EU Countries too. Please leave a separate comment for each entry you are entitled to. You must leave me a way to contact you if your email address is not visible in your blogger profile. Due to the limited time constraints of this giveaway, anyone who does not leave an email address or have one visible in their profile will not be able to win the giveaway. I will use Random.org to draw the winner. Winner will be emailed by me right after the drawing and will have 24 hours to respond with their name, address, phone and choice of giveaway item (ScrapMaBob or Ribbon Box). This information will then be forwarded to Rachelle from Rachelle's Writing Spot for the final drawing for The Workbox on October 12, 2009.

If you want to have more chances to become a qualifier for The Workbox, enter at each of the 9 other participating blogs. Each blog has different entry requirements, make sure you read the rules when entering.

1) Make It and Love It

2) Rachelle's Writing Spot

3) Vanilla Joy

4) The Mommy Files

5) My Organized Chaos

6) Life as Lou

7) Priscilla Styles

8) Cricut Christmas

9) Capadia Designs

Remember if you don't win and want your own Workbox, you can always take advantage of the $100 off shipping code "

100WRITES

" if you decide to place an order.